Archive Kienzle & Gmeiner Gallery (1997-2010)
Räume 1966
Verena Pfisterer
September 26 - October 31, 2002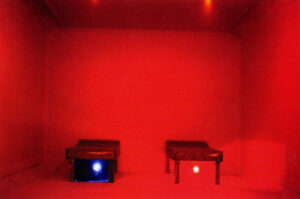 The Galerie Kienzle and Gmeiner is giving its second presentation of works by the artist and sociologist Verena Pfisterer (born in 1941 in Fulda) in an exhibition that forms a bridge between her spatial works (interior drawings and models and corresponding photographs) of the 1960s and those of today. The exhibition is accompanied by recent drawings of objects that augment her spatial ideas.
Verena Pfisterer studied visual art from 1960 to 1967, from 1963 at the Düsseldorf Art Academy under Hoehme and Beuys. Her fellow students were Sigmar Polke, Gerhard Richter, Jörg Immendorf, Katharina Sieverding, Palermo, Imi Knoebel, Franz Erhard Walther, Rainer Ruthenbeck, Chris Reinecke, Chris Kohlhöfer, Bernd Blume. But this was not simply an individualistic co-existence of artistic personalities; much fruitful collaboration also took place, as evidenced, for example, by the exhibition Frisches in 1966 in Düsseldorf (Beuys, Immendorf, Walther, Reinecke, Pfisterer). After studying sociology and psychology, Verena Pfisterer took a doctorate on the socialisation of the artist. She has lived in Berlin since 1967.
The imaginary rooms (of coloured glass) visualised here in drawings, photography and as models still await their realisation. They are spaces of contemplation, not in the sense of an esoteric subjectivism, but in the Enlightenment sense – unfinished; called for anew – of the emancipation of the social individual. The accompanying object drawings are reappraisals of everyday and cultural symbols that attend the process of individuation within an unresolved existential history, and whose painful explosiveness, according to the artist, needs to be increased.

Exhibition View | Räume 1966 | Verena Pfisterer

Exhibition View | Räume 1966 | Verena Pfisterer

Exhibition View | Räume 1966 | Verena Pfisterer

Exhibition View | Räume 1966 | Verena Pfisterer

Exhibition View | Räume 1966 | Verena Pfisterer

Exhibition View | Räume 1966 | Verena Pfisterer